Cohesion and an open, relaxed corporate culture are especially important to us. That is why we have launched the "Employees & Culture" project under the motto "stronger together" in order to foster teamwork and cement our corporate culture.
We intentionally feature flat hierarchies. Communication and teamwork as equals among all employees and managers characterize our everyday work. Open and honest communication, as well as respectful and friendly interactions across all levels, are especially important to us.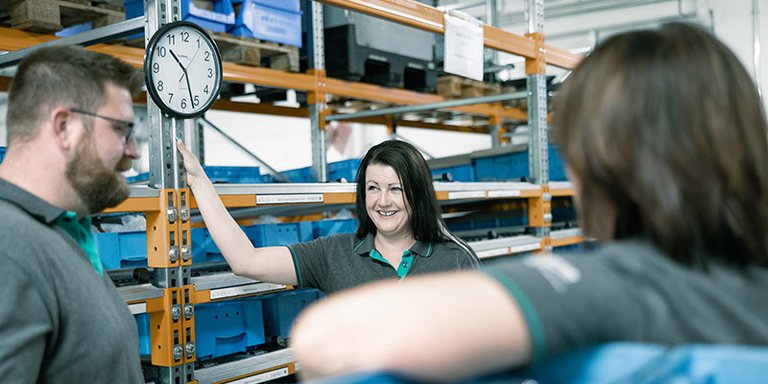 MS XTEC Hero Award – for an XTRA strong performance
The MS MS XTEC Hero Award rewards outstanding team spirit and dedication. If a team member goes above and beyond for the company, then a colleague can nominate them for this trophy. It is awarded twice annually. In addition to an official certificate, the two winners also receive a prize of €300. Finally, the winners can also choose a nonprofit organization to which we will also donate €300.
MS XTEC-CREW automation and digitalization project
Our cross-departmental team ponders the question of how we can successfully position ourselves on the market in the long term and take full advantage of future-oriented potentials – especially in an era of increasing automation and digitization. It includes employees from the Controlling, Technical sales/Cost accounting and Project management departments. The different experiences and skills of these departments contribute to this project and form the basis for a competitive future – a real team effort thanks to a true commitment even away from the regular team tasks.
Project team characteristics
Expanding horizons / getting to know other departments: Team members get the opportunity to deal with topics and challenges away from their everyday tasks, which also allows them to advance their personal and professional development.
Diverse, exciting and entertaining work
Helping shape our future as a modern employer: Thanks to the automation and digitalization of our production, we are not just a flexible and interesting partner for our customers but also a modern employer – the project team plays a major role in deciding what we will look like in the coming years.
A lot of responsibility across all levels: Employees play an active role and are given state-of-the-art, secure jobs. Promotion of an amazing, collaborative and cross-departmental working environment (owing to the team results and the cross-functional team itself).