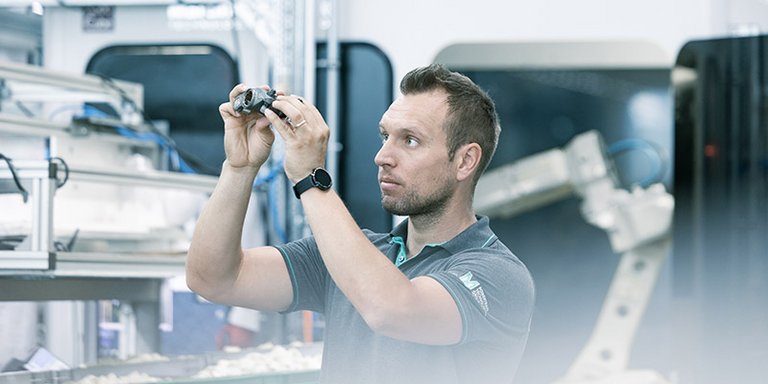 Cleanliness
Meeting the most stringent hygiene standards is extremely important in many industries. In the automotive sector, for example, the enormous technological advancements made in terms of performance efficiency, energy consumption and emissions reductions – as well as safety – has led to an increase in hygiene requirements for automotive components since technical cleanliness safeguards their functionality and durability. That's no problem for us, since we have also placed a major emphasis on consistently high quality. Taking into account our comprehensive environmental management, we implement detailed cleaning processes and also comply with the most stringent hygiene requirements during our defined assembly processes.
Pre-assembly
Wobbling: The wobbling process, which is also referred to as radial riveting, is a cold-forming process that we use for assembling and storing rocker arm rollers or for forming ribs or teeth. As a result of the wobbling movement of the upper die at a rotationally symmetric workpiece, we can achieve a large deformation with relatively little force. Wobbling allows much larger deformations than those possible with deep drawing or simple upsetting, which offers you greater design flexibility.
Cryogenic bonding As an alternative to the wobbling process (e.g. when assembling roller bearings), we use the efficient process of joining by thermal expansion to ensure optimal press fits. By employing the process of joining by thermal expansion, we prevent the annealing colors or structural changes that sometimes occur when using a creeping process. We cool the oversized interior piece with liquid nitrogen (-196°C) while simultaneously heating up the outer piece, which allows the inner part to be joined to its counterpart. An optimal press fit is created when heat is absorbed or emitted again. We pay special attention to the precise application of temperature to ensure an optimal fit.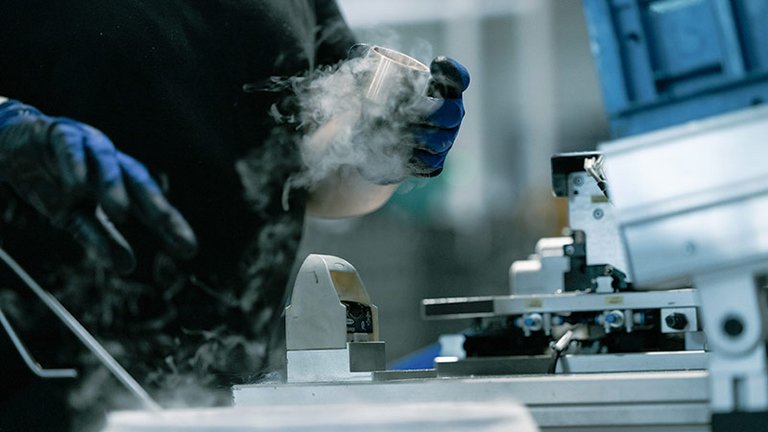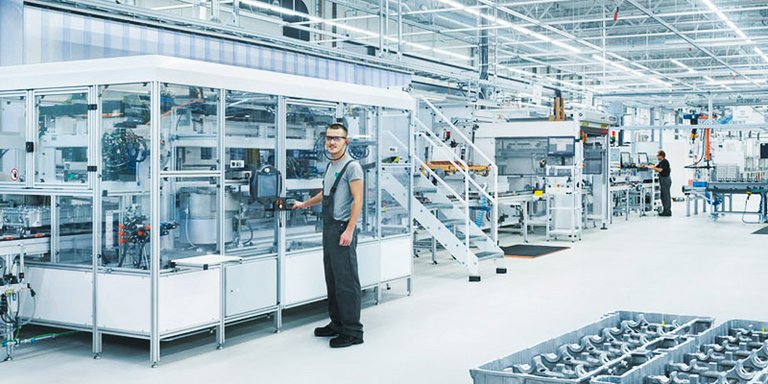 Final assembly
Semi-automated final assembly: A semi-automated assembly offers many options while optimally balancing the capacities of the line as well as the operating staff. This includes torque-monitored, documented screw-in stations during the assembly of camshaft housings. We would be happy to discuss your custom options and added values.
Fully automated final assembly: We offer you an automated parts feed and guarantee you completely automated assembly processes. We will design them so that the assembly, output and all highly complex processes are fault-free and can be reliably monitored and documented.
Functional testing
Using leak tests, continuity tests, disassembly load tests and functional tests, we ensure the functionality of all the high-precision products we manufacture:
Leak test: Using leak test stands, we can ensure in a non-destructive way that cast parts, components and assemblies are leak-free (e.g. camshaft frames with air as a test medium).
Continuity test: Using laser systems we can, for example, check the completeness of internal oil bores (e.g. of rocker arms and rocker shafts)
Disassembly load test: Using these downstream tests, we ensure that the placement (carried out with different joining processes) between the bearing pin and rocker arm rollers has been executed correctly.
Completeness check: Using application-specific camera systems, we will check the completeness of assemblies (such as camshaft housings) at the end of the assembly processes. We will only package and ship it to you once a successful tests has been completed.