Details make the difference
High-tech. For perfect precision machining.
MS XTEC GmbH will meet your productivity, process stability and quality standards with flexible production concepts. Our production not only features experienced experts but also cutting-edge machining centers, as well as state-of-the-art plants and tools with which we effectively manufacture your parts on a single spindle or multiple spindles.
Depending on the requirement, we manufacture in a clamping setup and use hydraulically actuated, multiply adjustable clamping devices and process-specific combination tools. For a consistently high series production quality, we rely on process-supporting measurements of all tolerance ranges.
These technologies make all the difference for you – because our experts modify them and make them more profitable for you.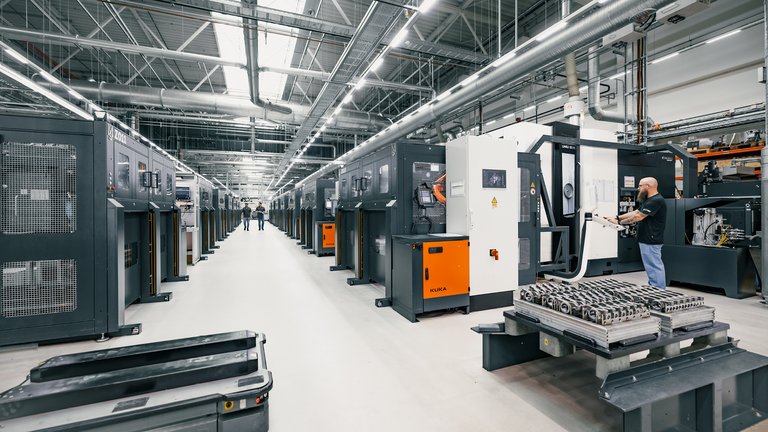 To ensure that you get the perfect component, we use the optimal deburring process for each product to remove the burrs that were created during their production. This includes:
TEM: Using our thermal deburring plants and their particularly large combustion chambers, we can meet the highest standards (for transverse-hole and deep-hole-drilled rocker shafts up to a length of 1,200 mm). When using this process, which is also referred to as "explosive deburring," an oxygen-burn gas mixture burns the burrs within milliseconds and ensures completely burr-free components. When using this process, the "roots" of the burrs are safely sealed without having to heat the component too much.
HP deburring: Using our fully automated plants (including vacuum drying) and a pressure of up to 650 bar, we can safely and reliably deburr even poorly accessible intersections or bores (e.g. in case of valve housings).
Barrel finishing: We match our grinding tools to the deburring process for your product so that edges or frays can be removed from them effectively and efficiently.
ECM: Using ECM (electrochemical machining), we deburr components via a chemical reaction using an electrolyte solution in up to 12 cavities at the same time. The advantages: top precision, lower costs (fewer rejects) and higher quality (thanks to the high degree of automation).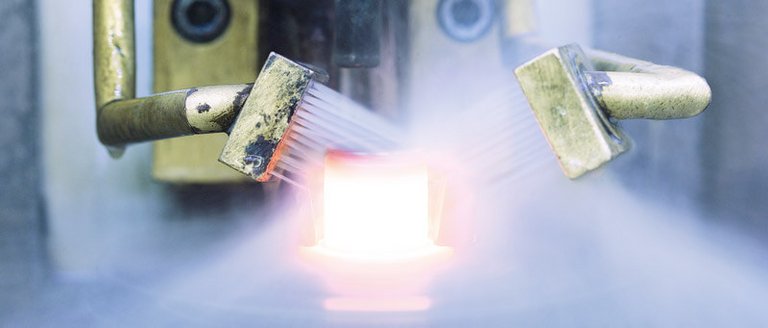 Heat treatment
Using heat treatment, the properties of metallic materials can be changed in different ways. We use various processes in order to meet wide-ranging customer demands:
Nitrating: Using nitrogen, we cure surfaces whose coats are resistant up to approx. 500°C.
Hardening: We use different processes depending on customer requests – including inductive hardening, case hardening and through hardening. This allows us to better meet your custom requirement and to harden the products individually or in batches.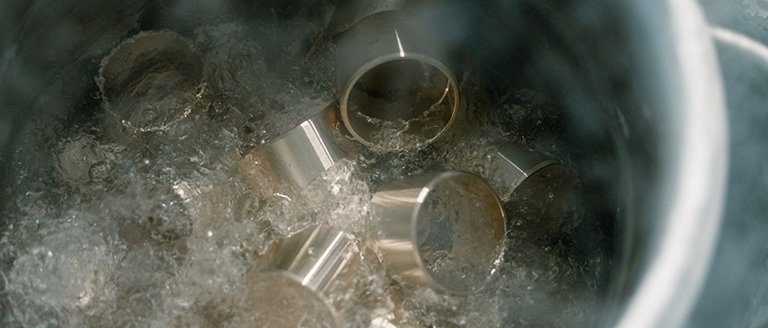 Cleaning
Whether it's aluminum gearbox housings or steel components with oil ducts: Regardless of the residual contamination requirement, we have the right solution – with tailor-made cleaning installations and processes as well as environmentally friendly procedures (separated according to the type of metal). Effective, resource-preserving and gentle on the parts as well as environmentally friendly – that is how we achieve the highest levels of cleanliness using ultrasound cleaning. Due to the oscillation, this process literally blasts dirt particles from the materials that are to be cleaned.
We only use environmentally friendly cleaning agents for the final cleaning, ensure the quality of the cleaning with camera monitoring and offer complete transparency at all times.
Chip removing process
(milling & turning)
A versatile chip removing process is another major strength of MS XTEC GmbH. Always at a high level and using the plants of well-known machine tool manufacturers, we will put in place a wide range of chipping technologies.
Your benefits: quick machining times, highly productive manufacturing, short chip-to-chip times and remarkable flexibility thanks to our high-performance modules that remain efficient even in the case of extremely heterogeneous workpieces.
Vertical milling: Using two high-performance spindles, we can completely machine multiple workpieces at the same time – for twice the productivity.
Horizontal milling (especially suitable for large parts): With innovative production concepts, we ensure flexible tool fittings, reduced auxiliary process times and maximum outputs (e.g. with integrated plate-change systems).
Turning: Using high-tech machines, machine elements and accessories, we achieve continuous precision with complex components, as well as an outstanding performance, torque and flexibility for large-scale production (e.g. for rotationally asymmetrical rocker arm brackets whose pins have different angles).
Hard turning: Using standard tools, we can produce highly precise inner and outer contours with a high surface quality (grinding processes are also possible).